We've added some new features to our website make ordering your new glasses even easier. As well has being able to browse through all our glasses frames by using the main menu you can now choose by Gender, Price, Frame Style and any of 5 different frame measurements together with clicking on a product tag to see evrything that matches.
When you choose a main category for example, Ladies Glasses or Mens Glasses you'll see a menu appear with a range of filters. By selecting a Price, Frame Style or Measurent you'll only see the frames that match your choice.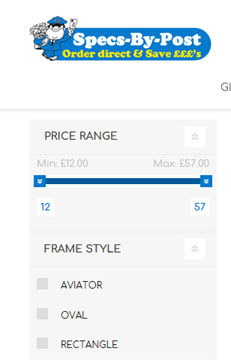 If you know the Frame Style you prefer you can see all the matching frames from the home page by clicking on the image:

You can also choose a full category to see the full range on offer:

You'll see these in the side menu. Clicking on any will show all the glasses frames that match your choice.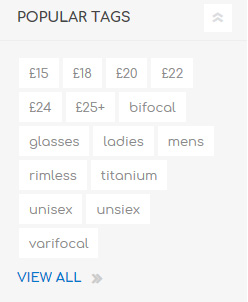 When you find a frame you like and click on it you'll be taken to the product details page. Here you can see and choose from all the available colours and lens options. These are presented in drop down lists next to the glasses frame. Any extras you add will adjust the price automatically. The frame price only includes single vision (std) hardcoated lenses.
Varifocal orders can only be placed by phone as more specific information is required including monocular PD (measurement between pupil centres) & fitting heights so the correct Varifocal lens can be prescribed as we offer many different designs of Varifocal lenses.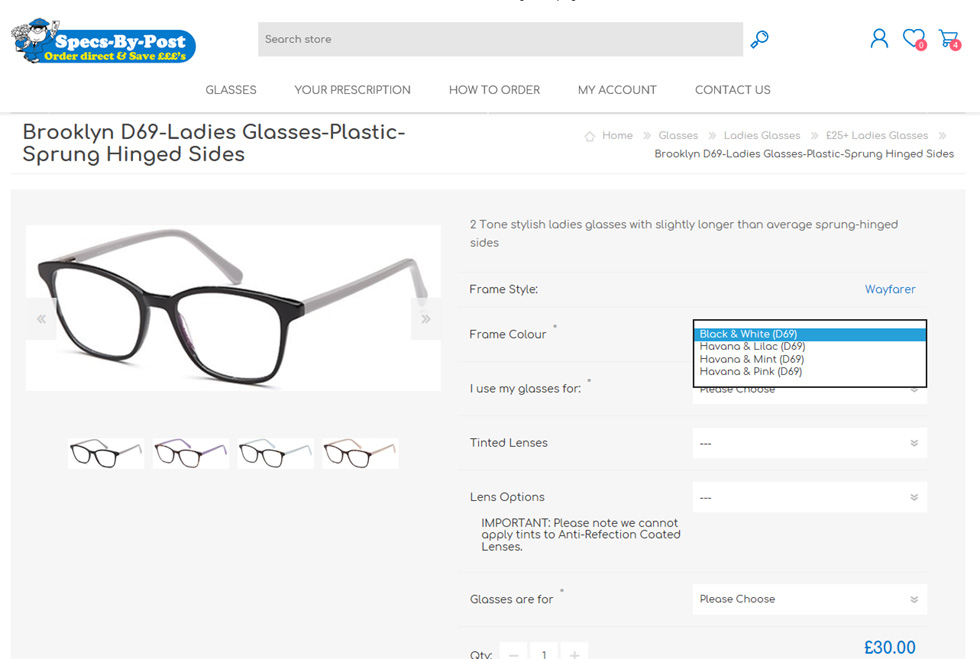 When you've chosen your options click 'Add to cart'. Click on 'Go to Cart' and you will be taken to the checkout process. You can either pay by card using SagePay or by PayPal if you have a PayPal account. If you're an existing customer you can sign in and your details will be added automatically. New customers will need to register to create an account. We ask for the minimal details we need to process your order (we do not share with any third party). At the checkout you will see a summary of your order and you'll have the opportunity to add your optical prescription details. If you don't want to do this at the checkout don't worry. You can send it by email to (linsey@specs-by-post.co.uk), post or telephone (01709769402) us. We're always here to help.
If you can't see the lens options you're wanting please email or phone us there are many other lenses options we can offer you such as BlueV Light coating, Polarised & Transition Xtractives!
You can choose to pay by PayPal or MySagePay, a secure card payment option.